the TalkReadPlay brandbook

What is a Brand Playbook?
A brand playbook is the go-to resource for the TalkReadPlay (TRP*) brand – what the brand stands for, who it speaks to and how to represent it.
How should it be used?
This brand playbook ensures consistent messaging, tone and style across all TRP interactions whether online, in print or in person.
Who is it for?
This brand playbook is a document to be used internally by TRP partners. It is not intended for a public audience. *TRP is used to abbreviate TalkReadPlay in this document, however we do not recommend that the TRP acronym be used with the public.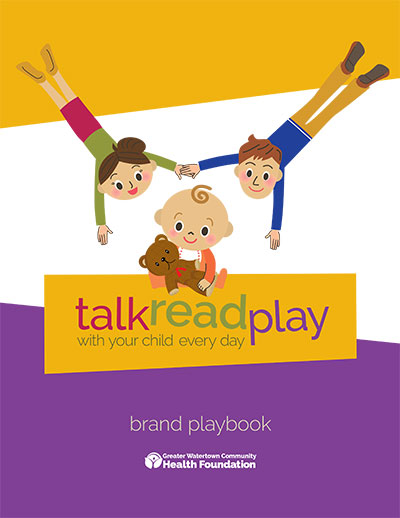 TalkReadPlay Brandbook
trusted messenger training sessions

TalkReadPlay relies on many "Trusted Messengers" to help equip parents and caregivers with tools to become their child's first and most important teacher. Monthly training sessions for Trusted Messengers are held at the Greater Watertown Community Health Foundation. We invite you to attend an upcoming session!
By the end of the two-hour training you will be able to:
Understand that relationships with caring adults are the most important thing for early brain development.
Describe the ways you can help promote early childhood brain development in your interactions with families.
Share specific ideas for how you can incorporate child brain development into your own daily routines.
Access tools and resources that support early childhood learning.
Click here to register for a training session. We look forward to seeing you soon!
download materials

Community Messaging

Trusted Messenger Training

support
Schedule a Speaker
We'd love to help you spread the word about TalkReadPlay. Contact Tarasa at tlown@watertownhealthfoundation.com to schedule a speaker for your event.
Donate
Your monetary support will allow us to purchase books for children in need. To donate, please contact Andi at amerfeld@watertownhealthfoundation.com



Translate this page: